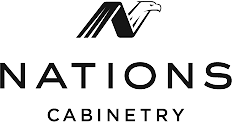 SEMI-CUSTOM CONSTRUCTION


Send us a text 409.908.4911 with pictures of your existing kitchen to get started!
---
Shipped Assembled & Boxed!

Construction Details

Overlay Information

Wood Species Information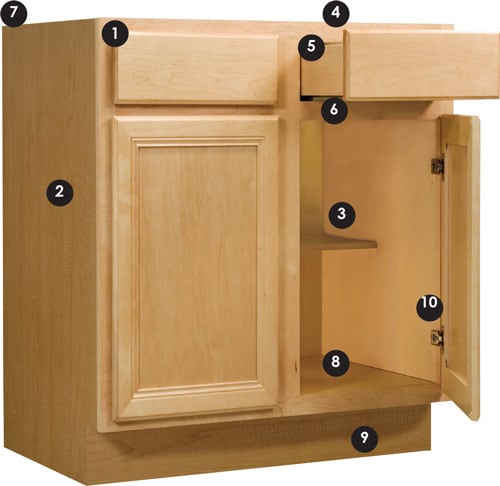 Standard Depth & Height:
Standard Depth & Height:
Walls = 12" Deep
Bases = 24" Deep X 34 1/2" High
Vanities = 21" Deep X 31 1/2" High

Download the Nations Cabinetry Spec Book
Frames = 3/4" thick, kiln-dried hardwood assembled under pressure with glue and screws, offers maximum strength
End Panels = 1/2" Substrate with maple wood grain laminate interior, matching laminate exterior
Shelves = 3/4" Substrate fully adjustable, half depth shelves with maple wood grain laminate
Hanging Rails = 1/2" Substrate
Drawers = Drawer sides and headers are 5/8" substrate. All drawers are pinned and rabbeted assembly. Visual drawer front is screwed to sub-front.
Drawer Bottoms = 1/8" hardboard bottoms all finished in a maple wood grain laminate finish
Drawer Guides = 7/8" extension undermount drawer guides
Corner Blocks = Neoprene corner blocks for added strength
Bottoms = 1/2" Substrate with maple wood grain laminate
Toe Kicks = 4 1/2" H x 3 1/8" D Substrate toe kicks, inset on all base, vanity bases and tall cabinets (toe kick unfinished)
Hinges = 6 - way adjustable, self-closing and concealed hinge
1/8" Hardboard Back Panel = Maple wood grain laminate, dadoed into ends, stapled and glued
Standard Overlay
Standard Overlay door styles have a 3/4" reveal left and right and 15/16" top and bottom. 3/4" in between the doors and drawer fronts so no hardware pulls are required.
Full Overlay
Full Overlay door styles o er a minimal gap between the door and drawer front, as well as cover the face frame producing a 3/16" reveal. Door and drawer hardware pulls are required.

Mitered
A joint made by beveling each of two surfaces to be joined, usually at a 45° angle , to form a corner, usually a 90° angle.
Mortise & Tenon
Mortise & Tenon joint is made by inserting mortise on one piece into tenon in the other.
Grain Grain is the texture seen in cut wood. Door panel grain runs vertical, while drawer front grain runs horizontal.
Beech Beech is a heavy, pale-colored medium to hard wood. It has a ne grain and medular rays, similar in appearance to maple or birch woods. Beech wood has a high shock resistance and takes stains well.
Cherry Cherry is a ne textured, strong and fairly durable wood and is well known for becoming darker and richer with age. While fairly pale when freshly cut, the end result is a favored reddish brown with a golden luster hue.
Knotty Alder Knotty Alder features a color range of light brown with reddish or peach hues. With soft, straight grain and even texture, it's characteristic also includes small and large split knots and open knots that vary in size, shape, and color.
Maple Maple is a close grained wood that is generally straight, but may be wavy in some instances. Its color ranges from nearly white, to an o -white cream color, sometimes with a reddish or golden hue.
Oak Oak features medium-to-large pores and a fairly coarse grain. Oak wood has a light to medium reddish-brown color that sometimes is streaked with mineral deposits and may vary from a close knot grain to sweeping arch pattern.
HDF HDF consist of a hard wood or wood-type center that offers a smooth and uniform surface for solid color finishing. The advantage of using HDF vs. wood in the core again points to the moisture-resistant nature of fiberboard.
---